2nd round on the 20th May *UPDATED on 22April*
Monday, April 09, 2007 (04:52:47)

Posted by kied
2007 Motocross Championship Update - Segamat next round on 20 May. Ulu Pengelli PUSHES back to Original July 14-15 date

The Slackriders Motocross Championship in 2007 has a venue change affecting the next round.
The 2nd round on the 20th May will be at Segamat instead of Batu Pahat.

Apologies on behalf of SIC for yet another change in the venue. The dates are committed and stays FIRM. It was earlier reported that Batu Pahat is swapped with Ulu Pengelli. SIC has confirmed the next round is at Segamat replacing Batu Pahat, and ulu pengelli goes back to the original date *All these news are correct as on 22 April 2007*

This class is only for Singapore residents. SMSA race licence is required for Singapore riders.
If you're not a Singapore resident, there are other classes to join, Vets, Experts, Trail, Novice, Junior, mini. AAM or FIM licence is required.
SR MX class has Trophies up to 5th (per race) and CASH prize up to 3rd (per moto).
2007 Singapore Motocross Championship Title is on the line......(SMSA recognised)
TOP 3 Overall Championship riders will also get Big Overall trophies and Big CASH prizes.

Segamat track is new and unknown to most riders. The Motocross track is in the city center and promises a massive crowd. I hear its going to be alittle small and tight. Who knows? But rest assured everyone is fairly ridng the same track on race day. The track is not ready for riding, it should be ready 1 week before the race. Here's your chance to Ride/drive and tour up the old roads of Johore to Segamat.


Ulu Pengelli is considered 1 of the best MX tracks in Malaysia. You have to be there to know.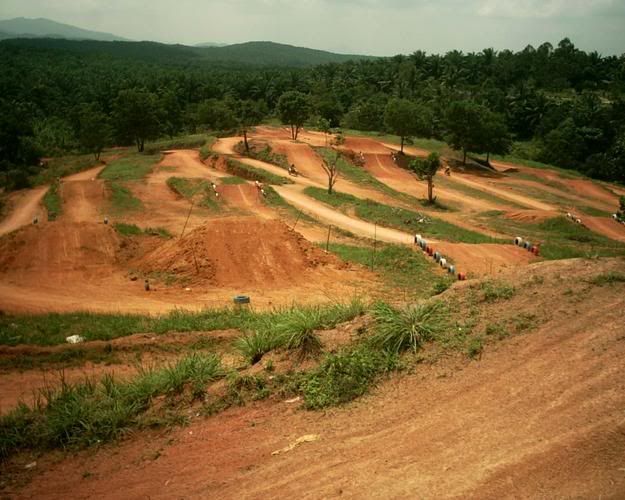 Photo was taken 2 years ago. They have added 7 sets of doubles and a set of whoops!!!

To satisfy the adventure spirit in you. Here's the driving instructions to ulu pengelli.
The 2nd link goes on Green #E3 to Senai airport. But exit north to Red #1 to Kulai. At Kulai, Turn right to Red 94. Turn left (north) to Red 93. 93 becomes 91. Go past Bandar Tenggara, small exit on the left is ulu Pengelli. On the map it is somewhere where its marked "38.0"